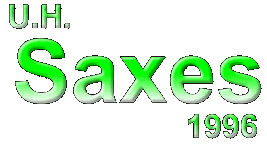 ---
Welcome to the University of Hawaii Sax Section Homepage!!

Last Additions - 12/6/96 Well, looks like the season has come to a close. Hope everyone enjoyed the 1996 Sax Section Homepage. Keep your bookmarks because the 1997 Sax Section Homepage will be at this same address next marching season.

---

Collection From the Marching Season

Jason knows how to pump the bottom


The enthusiastic section doing the kickoff thing


Blow Dave blow!


Dustin, Gavin, Matt, and Kevin waiting to play Swing Swing Swing


Who the hell is Ed calling? He's checking his....ummm.....work schedule?


Pearl City High School's spectacular halftime show


Dave, Brandon, and Jerome, showing how they stretch before practice


Oooh lala, the Rainbow Dancers really show how to stretch


Sandra and Ben in high spirits even in the rain


Brett showing off his sexy legs


Kevin Kunisaki reacts after tasting the mildew on his reed.


Aaron Ching with big smiles for the camera


Its Bari Bazooka Jason


The Swing Swing Swing Gang


The Rainbow Dancers dacing to our favorite song, The Macarena


The band knows how to do the Macarena too.


Sax alumnist Mel Martinez. And visit Mel's website to see what he's up to nowadays


Wow, what a straight line (on the hash). That must be one awesome band.


The Castle gang hangin at the bandroom after the last game.


Garret, Cedric, Ed, and others drinking SODA after the last game.


Brandon get one strong finger......good for plug up his butt after he fart.


---

Come and meet the saxes!