UH SAXES 1995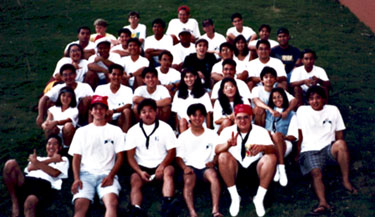 ---
Sax Staff


(Click on an image above or name below)

Gwen Nakamura, Assistant Band Director
George Matsumoto, Operations Manager
David Yukimura, Graduate Assistant
Sandra Yamashige, Field Staff, Section Leader
Derek Suzuki, Field Staff
Kerry Wasano, Field Staff

---
Sax Section

NAME			INSTRUMENT	NAME			INSTRUMENT

Dustin Chang		Alto		Vance Mizuba		Tenor
Trenton Yasui		Alto		Lance Lorenzo		Tenor
Tony Martinez		Alto		Brandon Oshiro          Tenor
Kevin Kunisaki		Alto		Susan McKeown           Tenor
Ginn Sakagawa		Alto		Dave Shiroma		Tenor
Ricky Domingo		Alto		Michael Morita		Tenor
Genevieve Ancog		Alto		Lori Okino		Tenor
Brian Masuda		Alto		Kauhi Ahana		Tenor
Cedric Duarte		Alto		Jerome Padua		Tenor
Daniel Semisi		Alto		Eric White		Tenor
Benjamin Wadahara	Alto		Gavin Min		Tenor
Stacey Takaki		Alto		
Brandon Higa		Alto
Janel Akana		Alto		Grant Tokumi		Bari
Ian Banks		Alto		Edgar Lamug		Bari
Ryan Araki		Alto		Kealii Lum		Bari
Kenneth Nishimoto	Alto
Scott Eugenio		Alto			  Totals
Shane Kaneshiro		Alto			Altos	22
Kyle Shiroma		Alto			Tenors	11
Tim Gallaher		Alto			Baris	 3
Ben Kau			Alto			-------------		
						SAXES	36

---
Sax Shirts

1995 Sax Shirt
Sax Shirt Archives


(Click on an image above or year below)



Designers
1995 - Kauhi Ahana
1994 - Vance Mizuba & Genevieve Ancog
1993 - Royce Fujitani's friend
1992 - Greg Chung
1991 - Jon Murakami
1990 - Michael Cueva

---
Pictures
Band Banquet
Contributers:
Lance Lorenzo - provided the snapshots.
George Matsumoto - provided some computer pics.
Daniel Akemoto - provided the video for pictures and movie.
Genevieve Ancog - did most of the scanning for me.


If any of you have more pictures of this years season you want to contribute, email me or leave a message in the "comments" below so we can arrange something.
---
Movies
(Download a mpg viewer for PC or Mac)




Saxline (mpg, 564K): with Michael superimposed in the back. (no sound)

---
Email me at: grant@tokumi.net