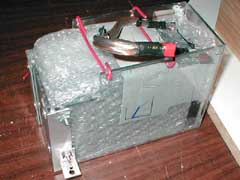 Battery box made from 1/8" lexan. Lexan heated and bent upwards 90 degrees to form the lexan box. Angle aluminum riveted and bolted to 2 sides of lexan box for support. Only did this to 2 sides. This allows me to spread open up the non-supported edges to help get the battery out. Red house wire used to keep the battery from accidentally sliding out too.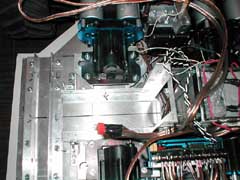 The other 2 supports for the box are on the vehicle as shown in this picture. Vertical angle aluminum. The angle aluminum running left to right across the chassis ("F" written on one of them) holds the battery in place. However, those pieces give the chassis good support from end to end, and prevents the center of the chassis from sagging.

Battery box secured in the vehicle.