DATE:
August 23, 1997
WEATHER:
cool, slight showers, some clouds
HIKERS:
Daryn Ohta, Grant Tokumi,
---
Pictures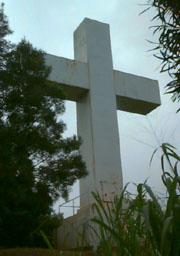 At the beginning portions of the hike, we came up to this nice cross. It lies in the middle of Kolekole Pass. Japanese bombers flew through Kolekole Pass on their way to bomb Pearl Harbor in WWII. I believe the cross is in rememberance of that occassio n.


---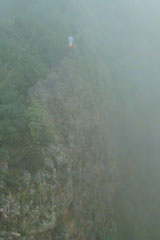 It was raining in the morning and the clouds smothered us. Here's Daryn making his way on the narrow, "test your nerves" spine.


---

When's the last time you saw Wahiawa (left side) and Waianae (right side) in the same picture. The scenery is awesome on this hike. I think out of all the hikes I've been on so far, this gave me the best views.
---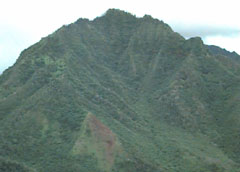 The peak in the middle is our destination.


---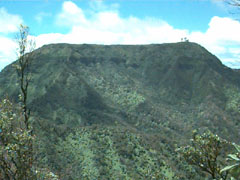 We reached the top! By this time, all the clouds had gone away and we got this nice clear shot of Mt. Kaala.


---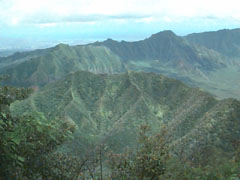 Looking back at the way we came. We could see all the way to Diamond Head, but I guess its too far away to see in this picture.


---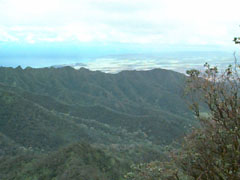 On the opposite side, the North Shore coastline could also be seen. Check out that surfer in the barrel.


---
Nerves of Steel! Daryn lives for these narrow ridge walking portions of the hikes.


---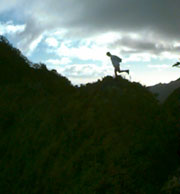 Now he's dancing on the narrow spine. Nerves of Steel!!!


---
The hike took 8 hours to complete. There are areas with steep climbs so be ready for that. And then there are those narrow ridge walking sections, so be ready for that too. I chose the crawling approach on those areas while Daryn chose the hop, skip and jump approach.

This hike was quite an adventure for me. On our return trip, I was leading the way when I went off the trail for a bit. When we realized we was not on the trail, I decided it was a good spot to use the bathroom. I tried to take a leak, but you have to relax both front and back to do it. So something was trying to leak out the back at the same time. I thought it might be a fart, but I soon realized it was not :). Decided to squat after a minute of trying to release from the front end without releasing from the rear end. Good thing I had my toilet paper. Lesson 1: always carry toilet paper. That was also the second time that I had do #2 that day, and it got softer every time. Lesson 2: don't eat a dairy product before a hike if you are lactose intolerent. After I was done with my business, I realized that I didn't remove my canteen belt when I squated, and the belt wasn't on my waist either. Lesson 3: Don't forget anything at the summit. After cussing for a little while about what I did, I decided to go back and retreive it. My canteen belt takes care of me every time I go on a hike, its like a son to me. I couldn't just leave it behind. That search and rescue mission took me 40 minutes. I'm sure glad I went back to get it.

See more pictures of Pu'u Kalena here. These pictures were taken by Nathen Yuen.
---
Hawaii Hiking Gallery Homepage
---
Custom Search
Email me at: grant@tokumi.net